5" and 6" Seamless Gutter Systems                   

Available in both aluminum or copper, our gutter systems are custom made on site insuring a perfect system. We only use the highest quality materials and our gutter coil is manufactured to the best standards in the industry. Which means our customers don't have to worry about their seamless gutters fading, cracking, or chipping. Many colors available.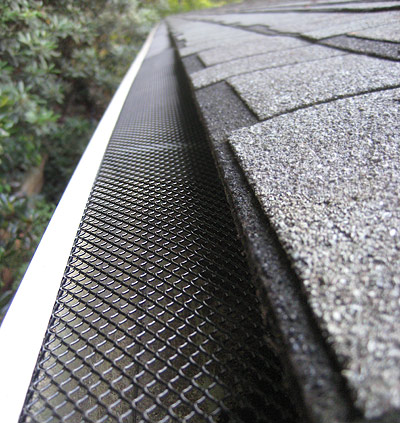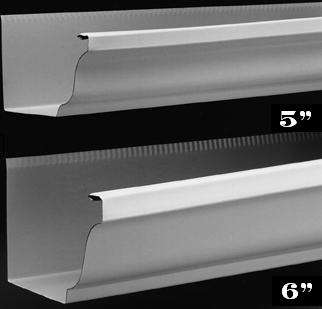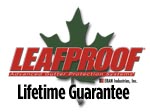 Gutter Protection Systems       

Leafproof® is a solid aluminum gutter cover that installs over existing gutters without penetrating your roof. The patented "S-Bend" slows the flow of rainwater, causing the water to adhere to the Leafproof® panel.

The Leafproof® System can be installed on any type of roofing, including shingles, slate, metal and tile, and on any roof pitch.

* The Leafproof Gutter Protection System encloses your gutters, eliminating the messy hassle and danger

  associated with cleaning them. Studies have shown that falling from a ladder is the number one cause of injury

  around the home.

* Leafproof is the only gutter protection system that fits existing gutters, slides under the first row of

  shingles, and is not screwed or nailed into your roof.

* Leafproof has the lowest profile on the market today to enhance the curb appeal of your home.

* Factory pre-set water channel can handle up to 12 inches of rain per hour but is small enough to keep out

  leaves, debris, pine needles and birds and animals too.

* Patented nose-forward design allows homeowners to maintain the system from the ground using a garden

  hose with a high-pressure nozzle.

* Manufactured using sturdy .024 aluminum, Leafproof will not collapse like screens and products made from

  vinyl.

* Available in 11 colors of aluminum or solid copper to perfectly blend in with your existing gutters.

* Available for 5" and 6" gutters.

* Most affordable premium gutter protection system on the market today.

5" and 6" Gutter Screens

Keeps your gutters draining by keeping out larger debris from your gutter system. Made of steel, which gives the system a strong structural integrity to prevent debris from pushing it down. It is also rust free.

* Economical

* Works well against broad leaves

* Easy to take out to access the gutter

* Installed over existing gutters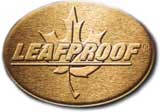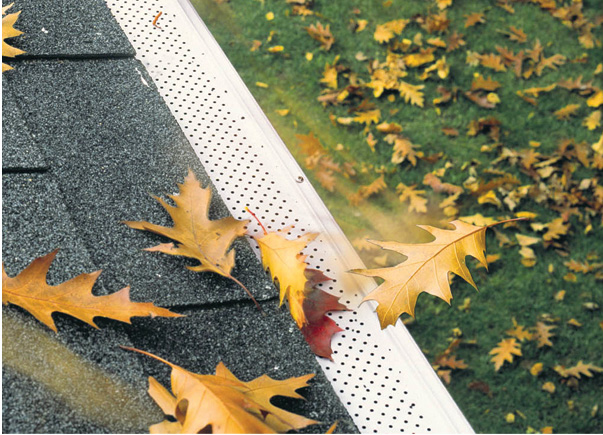 Gutter Protection Systems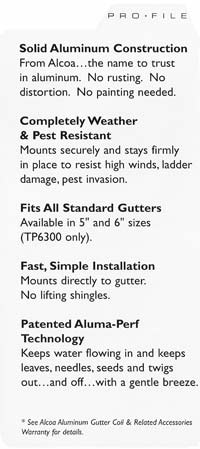 Compatible with new or existing gutters and all roof systems, Leaf Relief guarantees quality leaf protection at an affordable price. The system utilizes patented Aluma-Perf Technology - perforated holes keep water flowing and works efficiently to keep out leaves, twigs, seeds and small debris, including pine needles.

Leaf Relief offers exceptional volume capacity, capable of draining almost 30 inches of water per hour - at least 25 times more flow than most competitors. Lab tests prove most ordinary dry debris is cleared with a gentle 6 MPH breeze, while wet debris is removed with a 23 MPH wind. Virtually undetectable from the ground, Leaf Relief adds rigidity and durability to the gutter. The secure mounting system stays firmly in place to resist high winds, ice and snow, ladder damage and pest invasion. Leaf Relief by Alcoa is installed without ever lifting a shingle and is backed by a 10-year product warranty.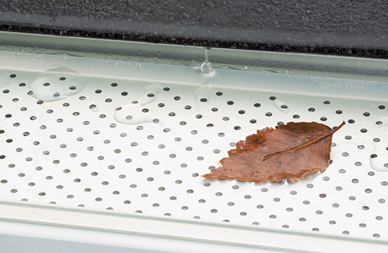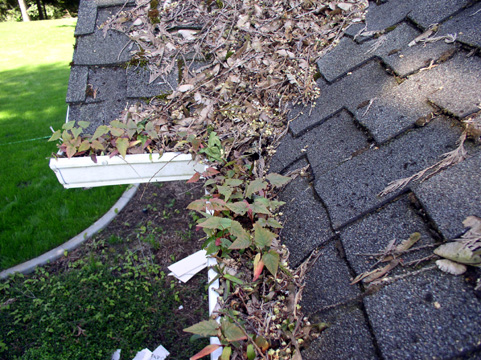 Gutter Cleaning - Gutter Repair - Tear Downs - Gutter Disposal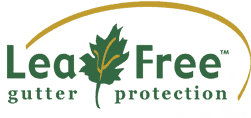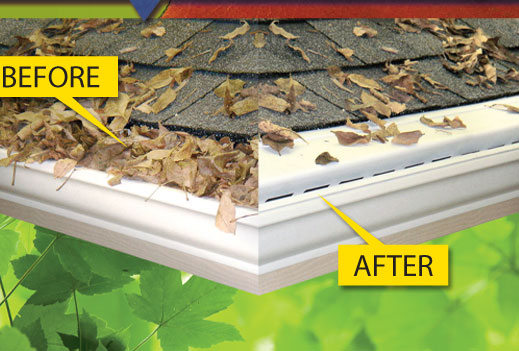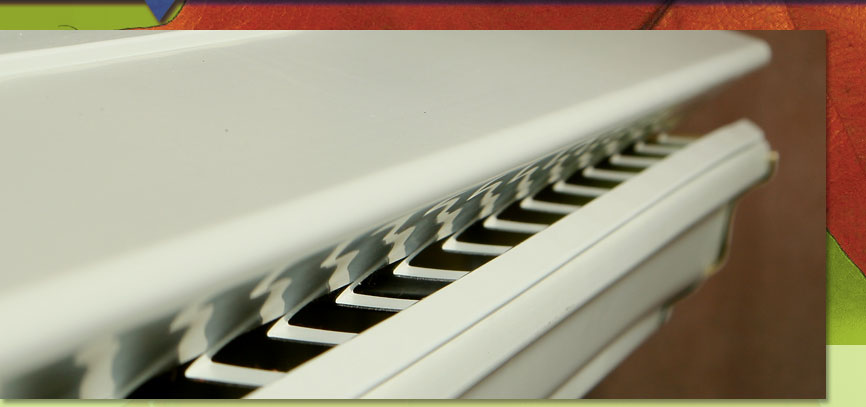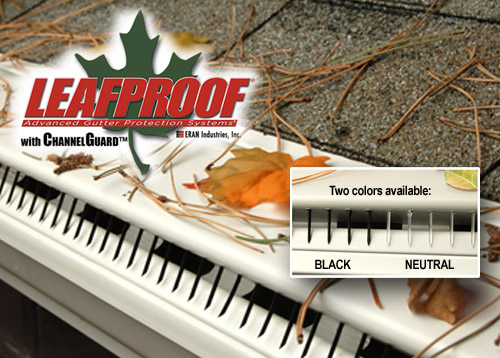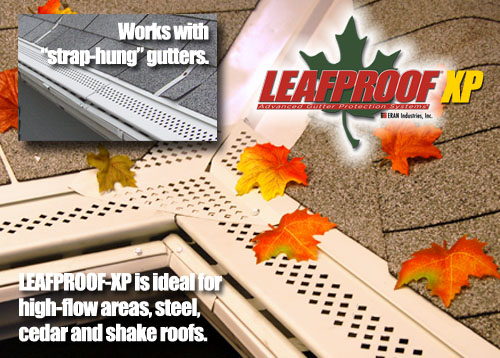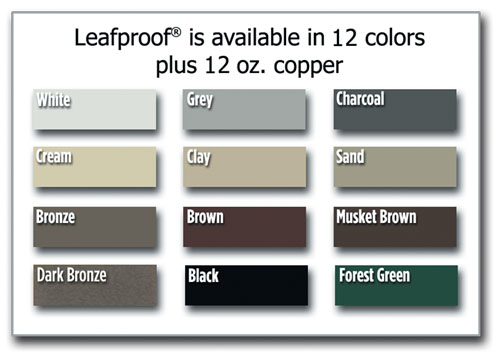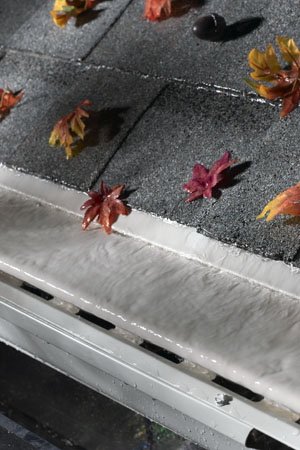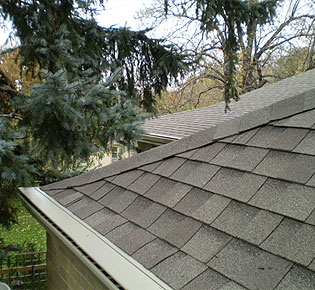 LeaFree™ works on the scientific principle of water adhesion. The patent pending design allows water to enter the gutter while keeping leaves and debris out. The design allows LeaFree™ to be custom-fit to any home by adjusting to any roof pitch.

The 1/2 inch horizontal opening is ideal to handle the heaviest rains and keep debris out. This opening also keeps birds and other pests from entering the system.

LeaFree™ has a low profile design that beautifies the look of your home by blending your gutters with the shingles and hiding unsightly metal flashing. It will add to the curb appeal and overall value of your home.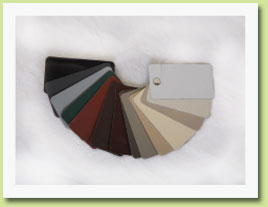 Panels have been tested to handle in excess of 14 inches of rain an hour.

Made of .024 aluminum and has a lifetime warranty.

LeaFree™ is made of .024 aluminum and cannot be chewed through. Also, aluminum will not warp or distort over time.

LeaFree™ goes under the first row of shingles and is attached to the lip of the gutter with stainless steel screws.

Designed for new and existing gutters.

The LeaFree™ design is low profile. The low profile design enhances the look of your home, blends in with your roofline and hides unsightly metal flashing.

Maintenance on your system may be little to none at all. Like all exterior products on your home, LeaFree™ will get dirty over time. If you notice a build up of dirt or debris on your system, simply rinse it off with a high pressure nozzle on your garden hose.